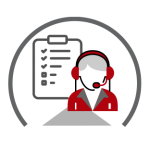 Claims services
There are basically three steps in cargo claims services, as follow:
> Claims surveys are the basic and most frequently requested services.
The customer (normally an Insurer) will appoint the surveyor or surveying firm, who should:
Carry out the inspection as required, eventually inviting TPs for joint survey
Establish the extent and causes of damages
Evaluate the damages
Collect pertinent documental support
Arrange / assist in salvage operations
Issue the pertinent report
Once completed the job the surveyor should compile his report and present same to the customer with his invoice.
Claims adjusting and settling
> Once in possession of all relevant documents the claim adjuster should decide if the claim is covered under the policy, establish the indemnity amount and settle the claim, obtaining the pertinent Letter of Subrogation
RECOVERY
Recovery Having settled the claim the adjuster will, either attempt the recovery himself or pass the file to the Recovery Dept. for further actions.
In most of the cases the surveyors / surveying firms are involved only in step (a), while insurers / brokers / customers handle steps (b) and (c). However certain customers also delegate steps (b) and (c) to surveying / settling firms. Our experience indicates the following:
Almost all Scandinavian / Finnish companies delegate in their Average Agents the full procedure.
U.S.A. companies usually request the survey and they adjust and pay the claim by themselves (sometimes sending us the check to forward it to claimants) and then pass the file to us for recovery purposes.
Domestic / European companies normally require only step (a)